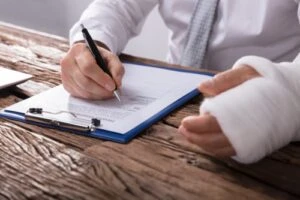 Unfortunately, car accidents happen every day. In Florida, accidents are more common than almost any other state. According to the Insurance Institute of Highway Safety, in one recent year, more than 400,000 car accidents took place in Florida. More than 41 percent caused injuries to individuals involved, and 2,915 fatal car crashes took place. For that same year, California and Texas were the only two states with a higher number of fatal accidents.
Florida's large population undoubtedly contributes to the increased number of accident fatalities. However, despite the increased population, Florida ranks in the top 10 when comparing the rate of fatalities per the number of miles driven.
If you have been involved in a motor vehicle accident in Florida, an experienced car accident attorney can help.
Who Pays the Medical Bills After a Car Accident?
According to the Florida Department of Highway Safety and Motor Vehicles, in Florida in a recent year, 166,881 accidents resulted in injury. After sustaining injuries in a motor vehicle accident, victims often require medical care. Medical costs can quickly become significant. Victims frequently become overwhelmed with the stress of their financial burden. Many Florida residents find themselves struggling to afford the typical costs of medical care. Fortunately, car accident victims have legal rights and may be entitled to compensation to help cover medical costs.
Your PIP Insurance
Florida is a no-fault state. As such, all insured drivers are eligible for medical coverage, regardless of who was at fault. In Florida, all drivers are required to hold a minimum of $10,000 of Personal Injury Protection (PIP) insurance coverage. Personal injury protection is intended to cover medical bills in the event of an accident. After an accident, funds to cover medical expenses will initially be drawn from your PIP insurance.
Here are a few things you need to know about your PIP coverage:
PIP only covers 80 percent of your medical costs. While you may hold $10,000 in PIP coverage, your policy will only cover 80 percent of the costs. The patient is required to pay a 20 percent copay. Depending on the service provider, you may be required to pay the costs of copay upfront. Other service providers may allow you to defer payment to a later date. A personal injury attorney can help negotiate a payment plan with your medical treatment providers.
You must be seen by a qualified care provider within 14 days of the accident. Florida has very specific requirements regarding the use of your PIP coverage. To apply your PIP coverage to your medical expenses, you must see a medical provider within 14 days of the accident. If you fail to see a doctor within this time frame you will not be able to access your PIP coverage.
You may not be able to use all your PIP coverage. Only those medical conditions that qualify as an emergency condition will allow you to access the entire amount of PIP coverage. In the absence of a diagnosed emergency medical condition, you will only be able to use up to $2,500 of your PIP coverage.
Your PIP extends to all passengers. Drivers and occupants have an equal right to access the driver's $10,000 PIP coverage after an accident. Additionally, pedestrians who are involved in motor vehicle accidents will also have access to their PIP coverage for medical expenses.
Your Private Medical Insurance
If you do not have PIP coverage or you have exhausted your PIP coverage, your private medical insurance may cover additional costs. In fact, your care providers will likely ask for your private medical insurance as a backup for PIP. Patients are still responsible for any deductibles or copays. Again, a personal injury attorney can help negotiate the deferment of copay payments. If you choose to use private medical insurance, your insurance company will likely try to seek reimbursement from the at-fault party.
Your Employer
Were you on the job at the time of the accident? You may be eligible for workers' compensation in addition to the compensation awarded in a personal injury suit. If you are eligible for workers' compensation benefits, you may be compensated for lost wages. Lost wages are available for individuals whose injury causes them to miss time from work. Additionally, workers' compensation benefits may cover medical expenses. A qualified personal injury attorney can help explain the benefits available with both types of claims.
The Other Driver
In Florida, drivers are only required to carry bodily injury insurance if they have a DUI conviction or the vehicle is registered as a taxi. However, data shows that the majority of drivers carry bodily injury insurance. The Insurance Information Institute reports that nearly 27 percent of Florida drivers were uninsured in 2015. While this number is the highest in the country, it does show that almost three-quarters of drivers carry coverage.
If the other driver does not have bodily injury protection, you may still be able to file a personal injury suit against them. In this case, any recovery would come from the other driver's personal assets. If the other driver was on the job at the time of the accident, you may be able to recover damages from his or her employer.
A Third Party
In some cases, a third party may be liable for damages resulting from a car accident. A variety of circumstances may expose a third party to financial liability, including:
An uninjured party causes the accident. Did a driver swerve into your lane to avoid hitting another driver? Did you have to slam on your brakes because of another driver's actions? Even if the other driver was not directly involved in the collision, they may be responsible for damages.
Poor road conditions or damaged traffic devices caused your accident. City and state governments have a responsibility to keep the roads safe. Roads must be repaired, bridges and barriers must be properly maintained, and signage and lights must be visible and functioning properly. If you get in an accident because of poor road conditions, you may be able to file a suit against a government agency.
An accident involving a commercial vehicle. Unfortunately, accidents involving large trucks, buses, and taxis happen more often than we would like to think. If you are in an accident with a commercial vehicle, the driver, the employer, and the truck owner may all be liable.
For a free legal consultation, call (239) 334-3933
What Type of Costs Does a Personal Injury Award Cover?
If you had to uee health insurance to cover medical costs, you are likely aware that policies don't cover every cost you may endure. PIP insurance, however, will cover many of the services you may need after an accident. Ensure that your healthcare provider accepts your auto insurance carrier. For PIP or the other driver to cover your costs, the costs must directly relate to the accident.
While some costs may be excluded, some costs are commonly covered, including:
Doctor visits. After an individual suffers minor or moderate injuries, they typically visit their primary care physician. After evaluating your injuries, your doctor may suggest follow-up care or refer you to a specialist. A physician's prescription of treatment or referral to a specialist are typically considered medically necessary, thus insurance is not likely to dispute the costs.
Chiropractic care or massage therapy. The costs of chiropractic care and massage therapy are generally recoverable through a personal injury suit. However, to limit financial exposure, some insurance companies may try to claim that the treatment is unnecessary or ineffective. In the alternative, they may limit the frequency of your visits. Talk to your care provider and your attorney before seeking chiropractic care.
Medication. Prescription and over the counter medication is often necessary after an injury. Medications may include pain relievers, antibiotics, antidepressants, or ointments. Generally, any prescription medication will be covered by your auto insurance. If you purchase any over-the-counter medications, make sure to save your receipts.
Surgeries. If your injury requires surgery, the costs will likely be significant. Many times PIP coverage will be insufficient to cover the costs associated with surgery. A personal injury attorney can help you recover any additional costs from the other party.
Mental health counseling. Car accidents are traumatic, and often cause mental health issues including depression, anxiety, and PTSD. A trained counselor can help you acknowledge the impact of the accident and find appropriate coping mechanisms.
Medical transportation. Emergency medical transportation is expensive. A single ambulance ride can cost thousands of dollars. If you require helicopter transportation, this cost can rise into the tens of thousands. Additionally, a personal injury suit can also help you recover the cost of transportation to medical appointments, including the cost of gas if you are driving yourself.
Beyond Medical Bills: Other Costs
After a car accident, one of the most significant costs will be associated with medical bills. However, car accidents typically impact multiple aspects of victims' lives. You have the legal right to file a personal injury claim, which is intended to help you return to your pre-accident condition. A personal injury suit may enable accident victims to recover damages from the accident.
A personal injury case allows claimants to seek two types of damages: economic damages and non-economic damages. Economic damages have a direct, computable value. Non-economic damages are more variable and depend on the unique circumstances of each case. Beyond medical bills, common damages include:
Economic Damages
Lost wages. Serious injuries can cause victims to miss time from work. Even a few missed days can have a serious effect on your finances. A personal injury suit can help you recover lost wages from the time you missed from work. Recovery will include wages from your first missed day until you are able to return to work. If you are not able to return in the same capacity, or are unable to return to work, you may be eligible for future lost wages.
Home modifications. Brain injuries and spinal cord injuries frequently impact victims' mobility. You may need to make home modifications to increase accessibility. For example, you may need to install ramps and handrails or widen doorways.
Retraining. Individuals who are unable to perform their previous job duties, but can work in some other capacity may require occupational training. The costs of education, certification programs, or occupational training may be included in personal injury compensation.
Medical devices. Bone fractures to lower extremities may require crutches for mobility. A back injury may make sleeping in your previous bed uncomfortable. If your injuries require medical devices or special equipment, a personal injury attorney can help you recover these costs.
Non-Economic Damages
Pain and suffering. The trauma resulting from a motor vehicle accident can cause physical and emotional pain. The costs and impact of pain and suffering can be difficult to quantify. Pain and suffering is a general term that refers to the physical and emotional stress associated with an accident and the resulting injuries. A pain and suffering award will depend on the nature and severity of the pain, as well as how much it impacts your quality of life. Pain and suffering includes immediate and chronic physical pain, as well as emotional pain such as anxiety or PTSD.
Loss of enjoyment. When you are unable to do the things you once enjoyed because of an injury, it can be a tremendous loss. We often don't realize how much an activity means to us until we are no longer able to participate. Loss of enjoyment is not limited to recreational activities. You may be compensated for the loss of enjoyment of activities like reading, cooking, or running.
Loss of companionship. Humans rely on physical and emotional companionship. Injuries from a car accident may leave victims unable to move, talk, or have an emotional relationship. When this happens, the affected parties deserve compensation for their loss.
Click to contact our personal injury lawyers today
How Can a Car Accident Attorney Help?
It can be quite difficult to accurately assess just how much a car accident will affect you. After an accident, the other party's insurance may reach out to you with a settlement offer. This figure is often much less than what you deserve. An experienced personal injury attorney can evaluate your case and communicate with your healthcare providers. Additionally, they can use the details of your case to predict an appropriate valuation of your claim. If you have been in a car accident and have questions, contact an experienced car accident attorney today.
Call or text (239) 334-3933 or complete a Free Case Evaluation form