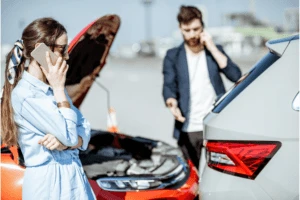 An estimated 6 million car accidents occur each year across the United States. According to the National Highway Transportation Safety Administration (NHTSA), these 6 million car accidents result in more than 2.7 million injuries and more than 36,000 deaths each year. Most of these traffic accidents are caused by driver errors. Read on to learn the eight most common car accident causes.
Human Error is Responsible for the Majority of Car Accidents
Millions of car accidents occur each year in the United States. Of those millions of accidents, it is estimated that 94% of all road accidents are caused by human error. At some point, every driver will find themselves thinking about something other than the road in front of them. While many drivers remain unscathed as their mind wanders, others are not so lucky. The following are some types of human errors that are also common car accident causes.
1. Distracted Driving
One of the leading causes of car accidents each year is distracted driving. Sending a quick text, answering a phone call, or eating a snack all require the brain to switch between tasks. Switching between tasks, even if it is seemingly innocent, causes distraction. Unfortunately, just one second of distraction can set in motion an unnecessary car accident.
2. Reckless Driving
Another common cause of car accidents is reckless driving. When you switch lanes too quickly or tailgate the vehicle in front of you, you may end up in a needless car accident. Always remain calm and alert while driving. Impatience can lead to disaster out on the road.
3. Aggressive Driving
Along with reckless driving, aggressive driving can have just as many negative consequences. When you weave in and out of traffic, block cars attempting to pass or change lanes, speed in heavy traffic, or act in an erratic manner out on the road, you are putting yourself and everyone around you in harm's way.
4. Not Following the Laws of the Road
Car accidents also commonly occur with drivers are simply not following the laws of the road. When you run a stop sign or drive through a red light, you create a dangerous situation for yourself and other motorists. Approximately 40 % of car accidents occur at intersections. It is important to know the rules of the road and who has the right of away at these intersections. Educating yourself on road safety and executing these rules properly will help you avoid accidents out on the road.
5. Drunk Driving
Driving while drunk or while impaired by any substance is a recipe for disaster. On average, between one quarter and one-third of all fatal car accidents involve alcohol or drug impairment. Never get behind the wheel while under the influence of drugs or alcohol. Even some over-the-counter prescription medications can dull a driver's senses, leading to costly mistakes on the road. When in doubt, call a ride. It could truly save a life.
For a free legal consultation, call (239) 334-3933
Other Common Car Accident Causes
While most car accidents are caused by human error, there are some circumstances where car accidents unrelated to human error do occur. Some of the most common car accident causes unrelated to human error are listed below.
6. Weather Conditions
When roads are slippery from rain, snow, or ice, this can affect tire traction. Having little to no tire traction can cause vehicles to slide off the road or into other traffic. Fog, water levels, and wind speed can also cause car accidents to ensue. If possible, it is best to stay off the road until weather conditions allow for a safe driving environment.
7. Road Conditions
Poor road conditions can also cause car accidents to ensue. Having to drive on poorly maintained roads increases the accident risk for all drivers. Poor roadways can cause tires to pop or cause other driving hazards, which lead to a number of car accidents each year.
8. Vehicle Defects
A final common cause of car accidents is vehicle defects. Cars consist of hundred of parts to keep them running properly. If just one part malfunctions, it can cause a major disaster out on the road. It is a good practice to always be aware of car recalls and regularly service your vehicle to avoid accidents of this nature.
Consult with an Automobile Accident Attorney Today
Unfortunately, millions of car accidents occur each year out on U.S. roads. If you or a loved one have been injured in a car accident, don't wait. Seek help today. One of our experienced attorneys will be able to help you navigate your case and help you reach an ideal outcome for your situation. If you were in a car accident and need representation, reach contact us right away to schedule a consultation. We look forward to working with you and helping you obtain the compensation you deserve.
Call or text (239) 334-3933 or complete a Free Case Evaluation form