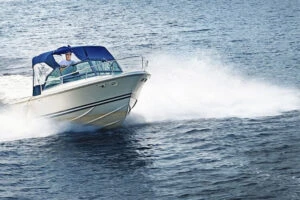 With hundreds of beautiful beaches and marinas, boating is a favorite pastime of many Florida residents. However, safety is a major concern for boating enthusiasts, especially for parents of young children. All recreational vessels in Florida are required to carry personal flotation devices (PFDs), otherwise known as life jackets, on board. In the event of a crash, capsizing or other disaster, a PFD can help save your life.
If you or someone you love has been injured in a boat crash in Florida, contact Florida boating accident attorneys for assistance. If the crash was caused by another's negligence or recklessness, you may be entitled to compensation.
All PFDs on board or worn by passengers must be U.S. Coast Guard approved. In addition, life jackets must be in good and serviceable condition, readily accessible and of the proper size for the intended wearer.
Here is a breakdown of Florida life jacket laws:
All recreational vessels must have at least one personal flotation device (PFD) that is U.S. Coast Guard (USCG) approved and of the proper size for each person on boat
Vessels 16 feet or longer must have one "throwable" Type IV PFD which is USCG approved and immediately available
Children under six years old must wear a USCG approved life jacket at all times on any vessel less than 26 feet in length that is underway in Florida waters
Children under 13 years of age on vessels operating on waters outside the geographical boundaries of Florida must wear a USCG approved PFD unless the child is below deck or in an enclosed cabin
Each person on a personal watercraft (PWC), such as a Wave Runner or Jet Ski, must wear a USCG approved life jacket
For a free legal consultation, call (239) 334-3933
Boating accidents can lead to tragic consequences. You or a family member might have been seriously injured, and your property may have been damaged. The Ft. Myers Boating accident lawyers at Viles & Beckman, LLC are here to help when boating crashes occur. We offer comprehensive, individualized legal representation for personal injury victims in Fort Myers, Naples and the surrounding areas.
Call or text (239) 334-3933 or complete a Free Case Evaluation form