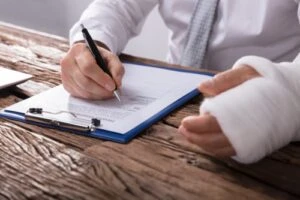 What kind of damages can you be compensated for after an accident or injury?
For any car accident victim, understanding the legal process can be difficult, but it's important to understand what rights and options exist when pursuing compensation. This means knowing what damages you may be entitled to if you were harmed by negligence.
There are two types of damages that are most common when it comes to car accident lawsuits and they have different situations when they can become present in a case. These two damages are economic and non-economic. Here's what they mean for an accident victim.
For a free legal consultation, call (239) 334-3933
What are Economic Damages?
When it comes to economic damages in a car accident, these are considered those losses which have a direct monetary value. Typically, this could mean anything that results in loss of money as a result of the damages sustained.
This can include things such as damage to personal property, medical expenses such as hospital bills and rehabilitation costs, and lost income if you are unable to work due to the injury you have sustained. Economic damages may be awarded to compensate for those financial losses.
What are Non-Economic Damages?
Opposite of economic damages, when it comes to non-economic damages, these are awarded for those losses which do not have a direct monetary value. Typically, these are present in cases where the victim sustains emotional damage as a result of the accident.
Non-economic damages are reserved for pain and suffering caused by the injury and accident. This could mean loss of enjoyment of life, loss of ability to do some activities the victim once enjoyed, or even loss of companionship.
When it comes to legal matters after a car accident, victims need strong legal representation to help them through the complex legal matters. You can trust in our Fort Myers car accident lawyers at Viles & Beckman, LLC.
We have more than 40 years of legal experience helping individuals like you who have been harmed as a result of negligence. Let us guide you and seek not only compensation for the pain you've endured, but also seek justice against the negligent party.
Call our firm today at (239) 334-3933 to discuss your rights and options.
Call or text (239) 334-3933 or complete a Free Case Evaluation form