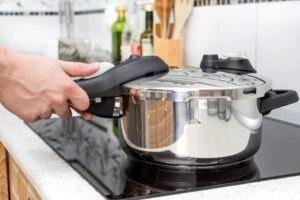 What legal actions can you take if you've been injured by a defective pressure cooker? In this situation, you may have a chance to file a product liability claim.
These claims allow individuals who have suffered injuries due to faulty devices, such as defective pressure cookers, to hold manufacturers, distributors, and retailers accountable for the harm caused by the products they put on the market. A Fort Myers product liability lawyer can help with these claims.
At Viles & Beckman, we offer compassionate legal representation to injured victims. Call us today to learn more about your possible legal options.
You May File a Product Liability Claim After an Accident
Electric pressure cookers can cause serious injuries, including severe burns, when they malfunction, making them a dangerous product. If you experience an injury due to a product defect, you may have a chance to file a claim against the at-fault party.
In many cases, a personal injury law firm may build a claim against the company that manufactured, sold, or advertised the device.
Florida's laws on product liability give you several legal options under which you can seek compensation. You may file your personal injury claim under the rules governing strict liability or under a negligence claim. We can help you review these options.
For a free legal consultation, call (239) 334-3933
Can You Seek Compensation Using Strict Liability Doctrine?
Florida allows you to seek fair compensation after sustaining injuries due to a dangerous product using strict liability laws in some cases. Strict liability laws mean that a manufacturer may hold responsibility for injuries caused by faulty products regardless of their intent.
For example, pressure cooker explosions may occur due to a design defect, such as an issue with a pressure release valve. It doesn't matter if the company intended the valve to work correctly under strict liability.
Product liability attorneys can review your situation and see if you qualify for this kind of claim to cover your medical bills and other financial losses.
Can You File a Negligence Claim After a Pressure Cooker Accident?
Despite having numerous safety features, pressure cookers can still malfunction and cause serious injuries. Sometimes, you may file an insurance claim for damages based on the manufacturer's negligence in allowing dangerous defects.
In order to qualify for a negligence-based claim, your lawyer needs to show that:
Another party owed you a duty of care

They violated their commitment to you

Their actions directly led to your accident

The accident directly caused your injuries
Negligence claims may prove harder to complete than claims involving strict liability. You can speak with a lawyer about your best option if a manufacturing defect in a pressure cooker leaves you with serious injuries.
Click to contact our personal injury lawyers today
Can You File a Lawsuit Against the Pressure Cooker Manufacturer?
In many cases, lawyers recommend attempting to settle out of court with insurance agents after you sustain injuries from a pressure cooker malfunction. However, you may qualify to file a lawsuit in some situations.
Before filing a lawsuit against the manufacturer, gather all the necessary evidence to support your claim. Your lawyer will build a strong case on your behalf to maximize your chances of success.
What you do immediately after an accident will influence your claim; to protect your right to maximum financial recovery, take the following steps:
Document the Incident
Collect any photographs, videos, or eyewitness testimonies that clearly show what happened, the safety mechanism that failed, and the injuries you sustained.
Secure Medical Records
Obtain all relevant medical documents, including doctors' reports, hospital records, and bills. These records will help demonstrate the extent of your injuries and the associated expenses.
Preserve the Defective Product
Keep the pressure cooker in its current condition, and do not attempt any repairs. Signs of the defective design represent essential evidence that can help prove the manufacturer's liability.
Consult an Experienced Attorney
Seek legal advice from a personal injury lawyer specializing in product liability cases. They will guide you through the legal process and protect your rights.
Complete a Free Case Evaluation form now
Can You Join a Class Action Pressure Cooker Lawsuit?
Many people consider class action lawsuits after experiencing an injury from a faulty pressure cooker. Joining a class action lawsuit allows you to work with other people injured by modern pressure cookers, working together to seek funds from the product manufacturer.
Product liability attorneys can review your situation to see if you qualify to take this kind of legal step.
You may also have a chance to participate in mass tort litigation, which functions like a class action claim in many ways. Your attorney can help you identify the steps to handle your complicated product liability lawsuit.
Will Taking These Legal Steps Help You Secure Fair Compensation?
Filing a legal claim can help you secure funds for common injuries caused by faulty pressure cookers. Seeking compensation for damages and medical expenses can be a challenging process, but with the help of an experienced attorney, it becomes more manageable.
If a defective pressure cooker injured you, you deserve compensation for the harm suffered. Your product liability lawyer will help gather evidence and build a strong case on your behalf.
We will calculate the full extent of your damages, including your:
Medical expenses and the cost of future medical care

Property damage

Lost wages

Decreased quality of life
We understand these types of damages and the impact they can have on your life. Your attorney will negotiate with the responsible parties and their insurance companies to ensure you receive fair compensation.
If we cannot reach a just settlement with insurance agents, your attorney will take your case to court and fight for the compensation you deserve through a lawsuit.
Find Out What Actions to Take After a Defective Pressure Cooker Accident
What legal actions can you take if a defective pressure cooker has injured you? You may seek an insurance settlement, file a lawsuit under strict liability or negligence, or consider options like a class action or mass tort claim.
A product liability lawyer can help you understand the intricate nuances of laws surrounding design, manufacturing, and marketing defects. At Viles & Beckman, we know how dangerous a seemingly ordinary household item can be if it is a defective product.
Contact us today to discuss your case.
Call or text (239) 334-3933 or complete a Free Case Evaluation form