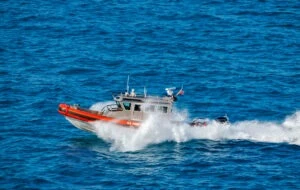 From investigating accidents to enforcing safety regulations, the Coast Guard is responsible for ensuring the well-being of boaters. They also collaborate with maritime lawyers and other agencies to investigate accidents. Most importantly, the Coast Guard offers support to boaters involved in accidents.
If you were injured in a boat accident, you should also seek legal representation. At Viles & Beckman, we have dedicated our practice to helping injured victims. Our boating accident lawyers in Fort Myers will review your options for financial compensation. Call us today to schedule a free consultation.
Coast Guard's Authority in Boating Accident Investigations
The Coast Guard's authority in boating accident investigations doesn't include determining liability or assigning fault. Their role is to ensure the safety and security of the maritime environment.
When a boat accident occurs, the Coast Guard's primary focus is conducting a thorough investigation to determine the cause and prevent future incidents. They gather evidence, interview witnesses, and analyze data to determine what happened.
They aim to identify any safety violations, inadequate equipment, or operator errors that may have contributed to the accident. By doing so, they can recommend improvements in boating practices and regulations.
Ultimately, it is up to other agencies, such as law enforcement or the courts, to determine liability and assign fault. A Fort Myers personal injury lawyer will help you build an evidence-based claim against the liable party.
For a free legal consultation, call (239) 334-3933
Coast Guard's Role in Ensuring Boating Safety Regulations
The Coast Guard plays a crucial part in enforcing safety regulations for boating. They have a responsibility to ensure that all boat owners and operators follow the necessary rules and guidelines to keep everyone safe on the water.
One of the ways they do this is by conducting regular patrols and inspections of vessels to check for compliance with safety equipment requirements, such as life jackets, fire extinguishers, and navigation lights.
In addition, the Coast Guard also monitors and enforces speed limits, no-wake zones, and other rules to prevent accidents and maintain order on the water. They work closely with other agencies and organizations to educate people about safety regulations and promote responsible boating practices.
Coast Guard's Collaboration With Other Agencies in Accident Investigations
Joint accident investigations between the Coast Guard and other agencies represent a collaborative effort to analyze maritime incidents. These investigations involve close coordination between the Coast Guard and relevant entities, such as other government agencies, industry organizations, and law enforcement bodies.
The shared insights and perspectives from different stakeholders contribute to a holistic understanding of the events leading up to the incident. Ultimately, joint accident investigations aim to enhance maritime safety, mitigate risks, and promote a more secure and resilient maritime environment for everyone.
The main benefits of joint boat accident investigation include:
Comprehensive analysis:

Joint investigations involve professionals from different fields, such as the Coast Guard, law enforcement, and maritime lawyers. This diverse team ensures a comprehensive accident analysis.

Access to resources:

When multiple agencies work together, they pool their resources. This can greatly enhance the investigation process and help uncover crucial evidence.

Impartiality and transparency:

Joint investigations promote fairness, impartiality, and transparency. By involving multiple agencies, the investigation becomes less susceptible to bias, ensuring a thorough and objective examination of the accident.
Click to contact our personal injury lawyers today
Boat Accident Lawyers Collaborate With the Coast Guard
Legal professionals work closely with Coast Guard authorities to exchange critical information, share insights, and facilitate evidence gathering. Boat accident lawyers can assist the Coast Guard by providing legal knowledge during accident investigations, ensuring that the rights of their clients are upheld throughout the process.
Attorneys can also help interpret complex maritime regulations and guidelines. This collaborative effort between a boat accident lawyer and the Coast Guard aims to understand the accident's causes and consequences while ensuring that legal remedies are pursued appropriately.
Complete a Free Case Evaluation form now
Coast Guard's Enforcement Actions and Penalties in Boating Accident Cases
The Coast Guard's penalties in boating accident cases can include steep fines. Additionally, they have the authority to suspend boating privileges, temporarily or permanently, depending on the severity of the incident and the at-fault party's history.
These enforcement actions serve as a form of punishment and aim to educate and encourage boat operators to prioritize safety and adhere to regulations.
Seek Legal Assistance After a Boating Accident
After a boat accident, seeking legal assistance is crucial to navigate the complex legal aftermath and protect your rights. As a victim, you can experience severe injuries and property damage. Your attorney will collaborate with the Coast Guard to investigate the circumstances of the incident.
At Viles & Beckman, we offer personalized legal support to all our clients. Our legal team will create a tailored approach that meets your needs and goals. Contact us today to discuss the details of your case.
Call or text (239) 334-3933 or complete a Free Case Evaluation form