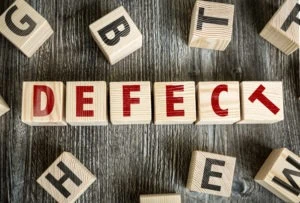 It's disappointing when you buy a product, and it doesn't work the way you thought it would. But it's even more upsetting when a product you bought results in a severe injury. However, you can hold the manufacturers accountable and get financial compensation for your pain.
Our attorneys at Viles & Beckman have seen a variety of defective product cases and are ready to get you compensation. Read on to learn about your rights to compensation after you're injured by a defective product.
Types of Damages You Can Recover for a Defective Product Injury
When you get injured from a product malfunction, you have the right to get financial compensation for your injuries. There are three types of compensation that you may be able to recover. A defective product attorney may be able to help you obtain the following types of compensation:
Economic Damages
Economic damages, also sometimes known as monetary damages, are losses that have a dollar value. When you get injured from a product defect, you will likely suffer financially along with your physical injuries. Some of the monetary damages you may be able to recover are:
Medical costs to cover any treatment you received

Property damage and replacement costs

Physical therapy to recover from your injuries

Loss of wages for the time you will be out of work

Loss of earning capacity for the income you may have earned if you weren't injured
An experienced defective product attorney will know how to recover all the damages that you qualify for, even when the negligent parties try to hide them.
Non-Economic Damages
Non-economic damages, also known as non-monetary damages, are losses you have suffered that do not hold a dollar value. These damages usually are related to the long-term effects your injury will have on your life. Some of the most common non-monetary damages include:
Loss of enjoyment of life due to not being able to do your favorite activities

Pain and suffering

Mental anguish for the stress your injury has caused you

Physical impairment if you are disabled
Depending on the severity of your injury, you may qualify for more non-monetary damages. When you work with one of our lawyers at Viles & Beckman, they will be able to tell you all the damages you qualify for.
Punitive Damages
The last type of damage you may be eligible for is punitive damages. Punitive damages are to punish the defendant by making them pay you extra compensation. This type of damage is rarely awarded, but when it is, it's usually when the defendant shows that they displayed gross negligence or acted intentionally.
Punitive damages could be awarded in a defective product case if your lawyer finds evidence that the manufacturer purposefully made a defective product or they knew the product could be dangerous. To find out if your situation qualifies for punitive damages, you can meet with a defective product lawyer.
For a free legal consultation, call (239) 334-3933
Your Time to Get Compensation for Your Injury Is Limited
After you suffer an injury from a defective product, you will have two years from the day you sustained the injury to file a product liability claim. While this may seem like plenty of time, your recovery time and finding a lawyer are included in the two years, which can make the time pass quicker.
This is why it's best to file your defective product claim as soon as you can. You should also get in touch with a defective product attorney soon after your injury so that they can tell you exactly how much time you have to file. Even though Florida's statute of limitations states that you have two years to file, your injuries may give you a longer or shorter time to file.
It's essential to know how much time you have to file because once you miss the deadline, you will not be able to collect any form of compensation, regardless of how much evidence you have.
Defective Product Injuries That May Qualify for Compensation
Injuries from a defective product can range from minor to severe. Some of the most common injuries that you can sustain from a product malfunction are:
Lead poisoning or other forms of poisoning

Accidental amputation

Lacerations

Internal bleeding

Loss of sight
The injuries listed above are not an exhaustive list of the injuries you can get from a defective product. If you don't see the injury you have, you could still qualify for compensation. To find out if you do, a free consultation with a defective product attorney can help verify that you have a case.
Click to contact our personal injury lawyers today
Learn More About Your Rights to Compensation After a Defective Product Injury
If you were injured by a defective product, our lawyers at Viles & Beckman can answer any questions you have about the compensation you're eligible to receive. If you'd like to know if you have a case, our defective product lawyers can give you a free case consultation.
If you're ready to learn more about the compensation you can receive for your injury, we're ready to help. Call us or fill out the contact form to start your free case consultation today.
Call or text (239) 334-3933 or complete a Free Case Evaluation form